Wim Delvoye
(

Born

)

1965 in Wervik, Belgium

(

Based

)

Ghent, Belgium and Brighton, UK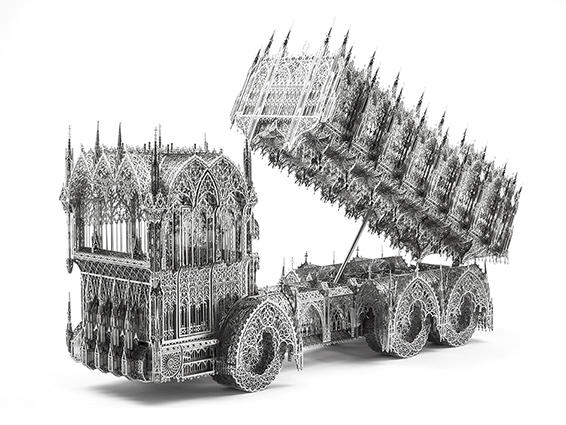 Wim Delvoye was able to establish himself as one of the most controversial artists of his time with a number of scatological works, including the infamous "Cloaca" (2000). The artist's model which he employed to do so, is that of the 'super'-artist: the businessman-entrepreneur that remains firmly in control. These artists are distinguished by their unique ability to react to contemporary political, economic, and cultural paradigms, particularly those that underpin the art world and the art market. At the same time, they rapidly refute stale claims about the creative process and the artwork in their multimedia work. Delvoye promotes himself as an autodidact, his art is often a combination of craftsmanship and the most sophisticated industrial manufacturing techniques.
Wim Delvoye had solo exhibitions at the Musée du Louvre, Paris, France; Musée Tinguely, Basel, Switzerland; Tehran Museum of Contemporary Art, Tehran, Iran; MUDAM, Luxembourg, Luxembourg; The Pushkin State Museum of Fine Arts, Moscow, Russia; Peggy Guggenheim collection, Venice, Italy; and many more.
Works by Wim Delvoye are included in numerous public collections, such as Guggenheim New York, NY, USA; SMAK, Ghent, Belgium; Stedelijk Museum, Amsterdam, The Netherlands; Centre Georges Pompidou, Paris, France; Art Gallery of South Australia, Adelaide, Australia; Musée des beaux-arts, Montréal, Canada; Uffizi Gallery, Florence, Italy; and many more.